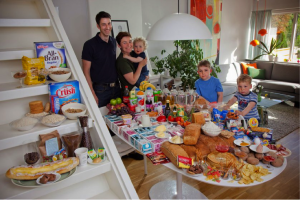 Norway: The Ottersland Dahl Family of Gjettum. Food Expenditure for One Week: 2211.97 Norwegian Kroner ($379.41 USD). Favorite foods: fresh baked bread with butter and sugar, pancakes, tomato soup with macaroni and cold milk, yoghurt. Photograph by Peter Menzel (source)
Husband-and-wife team Peter Menzel and Faith D'Aluisio traveled around the globe to 30 homes in 24 countries, investigating what families eat over the course of a week and how much it costs. The result was Hungry Planet: What the World Eats, a book published in 2006. With the turn of each page we see each family photographed where they dine, flanked by their week's worth of food products.
This project came to mind when we were discussing food security during Tuesday's class. The photos probe questions both about health and economic access to food—a perfect fit for the theme we'll be exploring this semester.
The photographs are geared toward a generalist audience: the Hungry Planet book has had mass and viral appeal, and has been highlighted in media such as TIME and NPR. (In fact, I'm pretty certain I first heard about these photographs when an acquaintance posted a link on Facebook.) The project aims to get people thinking about what they eat, where they get their food, and how much money they spend. It illuminates the disparity of food access and health choices around the world—from the Norwegian family of five that spend almost $400 on food, much of it processed and packaged, to the family of 15 in Mali that prefers to cook traditional rice dishes and spends $26 a week.
I choose to write about these photos because of the questions they bring up about data visualization. What does it mean to present data? Here, we see the photographer present data about food consumption in the most literal form, by documenting the actual families and food. For me, eschewing the language of graphs and charts in favor of this approach is effective, leveraging the visual power of raw foodstuffs and colorful packaging to pack a visual punch.
Mali: The Natomos of Kouakourou – Food expenditure for one week: 17,670 francs or $26.39. Family Recipe: Natomo Family Rice Dish. Photograph by Peter Menzel (source)